RV Bodywork
Are you a recreational vehicle owner in need of RV bodywork? At RV Masters, we specialize in bringing life back to any RV by providing exceptional RV services all year round. Our experienced RV technicians can assess any damage and provide prompt solutions, from small dents or scrapes to major repairs. With over 15 years of experience, our team of experts have the knowledge and expertise to tackle any job. Aware of the financial burden it can be to cover repairs and renovations; RV Masters accepts all insurances, including the household names listed below:
Whatever happens, we got you FIXED and they got you COVERED
It is important to understand what your RV insurance covers and what it does not. You may not realize that your policy almost always covers unexpected damage to your roof caused by low hanging eaves, falling tree branches, lightning strikes, and other causes of damage not related to ordinary wear and tear.
Whether caused by wind, rain, or travel, awning damage is often covered by your policy, and it is one of the most common insurance claims filed by RV owners. When an awning becomes damaged it may not retract properly, making it unsafe for you to travel. Because we work with many major insurance companies, we are able to complete your repairs on-site.
You must contact your insurance carrier as soon as possible following an incident. It is important to take photos and file your claim immediately following damage caused by a collision, accident or any covered hazard. The longer you wait, the more complicated it will be to separate damage caused by the covered incident from wear and tear, and your claim may not qualify for coverage.
While damage to your RV may be covered by your insurance policy, it can be tough to deal with your insurance carrier. We deal with insurance adjusters on a daily basis, and we can help you navigate through the sometimes messy process of collecting on your claim
If you find yourself disputing the original offer from their insurance company, we can help you get the amount to which you are entitled. We want your roof or awnings repaired to their pre-incident state so you can get back on the road.
Because we have many years of experience, the insurance and claims representatives know us. Our experience will help you get your claim processed quickly.
RV Collision
Our team of certified technicians can repair any collision damage, from minor dings and dents to major bodywork. Using only the latest and finest tools, we take the utmost care with every repair, ensuring our customers' full satisfaction.
Our RV collision repair services include:
Frame and axle straightening and repair
Paint repair and refinishing
Mirror and windshield replacement
Door and Body panel repair
Bodywork and fiberglass repair
Interior and exterior detailing
Paint
When it comes to painting your RV, it is essential that you choose a team of professionals who you can trust to get the job done. Our knowledgeable and experienced paint technicians take great care to perfectly match the existing paint scheme on your RV and add a new layer of protection and shine. We start by prepping the RV to make sure that the paint adheres to the surface properly and without any imperfections. Then, we apply two coats of paint for optimum coverage and protection against the elements. From there, we use high-quality clear coats to seal in the paint and give your RV a shiny, polished finish.
Before
After
Before
After
NanoCure RV Protection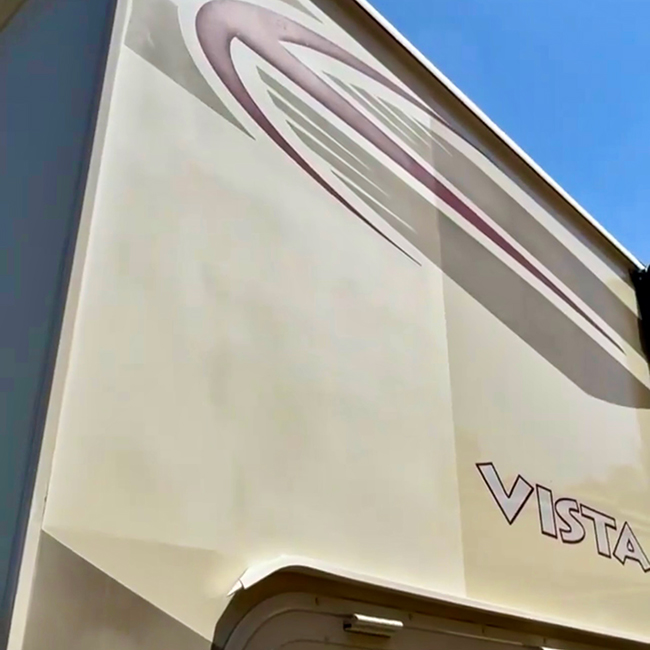 After your RV has been repaired and refinished, Nanocure keeps it looking new for the next 7 years. This is how you enjoy your investment to the fullest without worrying or being restrictive. NanoCure RV Appearance Protection includes interior and exterior protection that offers the following available coverages: body panel protection, carpet and fabric protection, end cap protection, factory wheel protection, headlight lens protection, leather and vinyl protection, organic odor eliminator, vinyl awning protection, and windshield protection. Life happens, and when it does we do not want to have to get ready, we want to already be ready.
Roof Repair
Our services include full roof replacements, RV roof coating, RV roof maintenance, and leak repairs. We can repair all types of RV roofs, from metal to rubber, and make sure it's able to keep you and your family dry and safe.
RV Rubber roof repair
RV Rubber roof repair typically involves replacing the whole membrane, which includes removing all rooftop objects (air-conditioning, units, antennas, vents, etc.). Check out the picture slide that starts off with showing you the small incident that resulted in the replacement of the whole rubber roof of the RV.
Fiberglass Roof Repair
Frame and axle straightening and repair
Paint repair and refinishing
Mirror and windshield replacement
Door and Body panel repair
Bodywork and fiberglass repair
Interior and exterior detailing